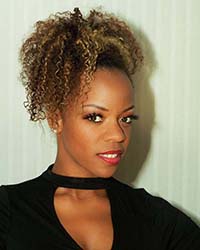 The Bridge of Our Roots
When
Occurs on Friday September 17 2021
Approximate running time: 1 hour and 10 minutes
Venue
Event Notes
×
SAFETY UPDATE: DTC will require our audience members to show proof of vaccination before entering the theatre or a negative COVID test within 72 hours before showtime. Also, following CDC guidelines, we're requiring everyone inside the building to properly wear masks at all times.
DTC is pleased to partner with High Intensity Productions for a special live dance performance. Directed and choreographed by Dara J. Meredith, The Bridge of Our Roots is inspired by the powerful painting Southern Souvenir No. II by African American modern artist Eldzier Cortor. The Bridge of Our Roots delves into the idea that Black bodies, and Black women specifically, have been ostracized, dismantled, separated, and abused, all the while being the backbone and the foundation of continuity for American culture. The work showcases the complexity of what Black women in the South have experienced while having to hold the nation on its breast so that it may live and live on.
Immediately following the performance there will be a a 30 min talk-back with Dara Meredith.