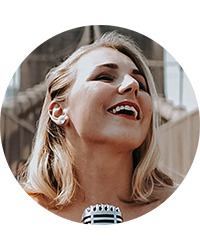 Jenna Pastuszek- Get Happy!
When
Runs from Wednesday June 23 2021 to Saturday June 26 2021
Approximate running time: 1 hour and 10 minutes
Venue
Event Notes
×
Pastuszek's cleverly curated cabaret salutes Judy Garland with music from The Wizard of Oz, Easter Parade and Judy Live at Carnegie Hall.
Front & Center and TAKE 2! have given us the unique ability to take live entertainment outdoors in an open, socially-distanced atmosphere. The show takes place on the front steps of our building, and the parking lot is transformed into your viewing area with individual 2-seat and 4-seat boxes spaced out for your comfort and safety. These are all GENERAL SEATING events, so this map image is designed for the sole purpose of reserving tickets only. It does not reflect the actual spacing and positions of where the boxes will be located for your performance.